Polarity Therapy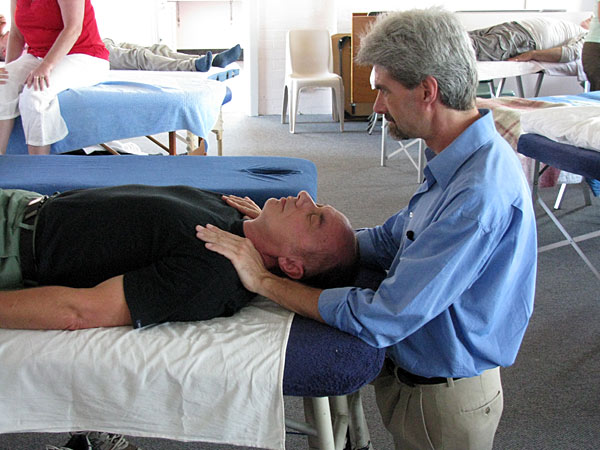 Polarity Therapy is becoming a defining model for energy medicine because it offers a comprehensive and specific model of the Human Energy System. Polarity Therapy describes in detail the various patterns and features of the human energy field, and provides valuable therapeutic approaches to each dimension of the human experience.

Polarity Therapy is a powerful holistic healing system combining some of the world's most ancient medical wisdom with the most modern advances in health care. Current research demonstrates that electromagnetic forces are the foundation of life, documenting what the ancients said about life energy, chi, or prana. This life energy weaves the fabric of our beings, creating the physical, emotional, mental, and spiritual dimensions in life. Disease, pain and stress are the results of underlying energy imbalances. Polarity Therapy improves the flow of energy in our bodies, bringing greater balance to the whole system. Because living energy fields are the foundation of health, Polarity Therapy is being used by many health professionals, including doctors, nurses, counselors, physical therapists and bodyworkers.
Polarity Therapy creates an insightful model for energy medicine and teaches skills for balancing the human energy system. Polarity Therapy can be learned well by professionals and laypeople alike. Energy balancing techniques are easy to learn and to integrate into your existing practice. Your clients will love the gentle and profound results. Introduction, Certification, and Distance Learning programs are available.
As a practitioner, Polarity Therapy gives you the ability to work with clients to help facilitate deep changes that increase well-being. Polarity Therapy is an integrated system that utilizes bodywork, awareness counseling, diet, and exercise as parts of a comprehensive approach to healing. Polarity Therapy bodywork is energy-based, similar to acupressure, reiki, Healing Touch, and Therapeutic Touch, yet it is more det ailed than these other approaches. The details of Polarity Therapy create greater precision in the therapeutic process, which allows energy-based healing to be very specific. This non-invasive bodywork balances the body's energy fields and currents. Balancing the life energy encourages healing the body's tissues, organs, and systems, while integrating the emotions, mind, and spirit. Polarity Therapy acknowledges the healing power of Love as the real depth of the healing process.
Professional Training »
Distance Learning Program »
Educational Resources »



Our courses are for you! The Polarity Therapy course is equally relevant for laypeople and professionals in the health care disciplines. Wellness Institute courses are designed to give you useful skills and a deepening awareness that will change your life! We have made it even easier to learn Polarity Therapy with our new Distance Learning Program and on-line trainings. Our commitment is to help you develop a comprehensive understanding of the Human Energy System and your ability to effectively facilitate healing.

Prepare for the Energy Medicine of the 21st Century
in this highly regarded course.

"I emerged from the Wellness Institute course fully confident in my abilities as a Polarity Therapist. The superb teaching ability of Roger and others at the Institute, the invaluable experience gained from the clinical supervision, and the clarity of vision provided by the class, has impacted me deeply in my life, preparing me fully for my change of career."
- HG, Toronto, Canada
Past administrator at the United Nations

Earn your diploma in Polarity Therapy!
Welcome to the all new Wellness Institute professional training in Polarity Therapy!

Announcing the new, hybrid training combining distance learning and in-class refinement!

Wellness Institute was one of the original approved trainings of the American Polarity Therapy Association. Through 30 years of teaching Polarity Therapy and energy medicine, we expanded to offer certification trainings in 7 countries around the world. This taught us even more about the universality of energy principles!
Currently, the American Polarity Therapy Association recognizes three levels of study leading to professional credentialing:
Associate Polarity Principles (APP)
Registered Polarity Principles (RPP)
Board Certified Polarity Practitioner (BCPP)
Learn more about the history of Polarity Therapy credentials here.
The APP is considered foundation studies in Polarity Therapy. According to APTA's Standards for Practice, the APP level is mostly about personal exposure to the principles and practices of Polarity Therapy.
The RPP presents higher levels of professional study. This study is about exploring the full spectrum of Polarity Therapy practices, and developing an initial level of expertise.
Board Certified Polarity Practitioner (BCPP) is the designated professional credential in Polarity Therapy in the regions the APTA serves. More> The BCPP is accorded through an independent credentialing board, not through the APTA. This is entirely unique in all the bodywork and complementary medicine professions: to have an independent board certification accredited via international certifying standards and an accredited review of APTA training programs in relation to demonstrated educational outcomes on independently administrated board certification exams.
How Wellness Institute training corresponds with APTA levels of study:
Our APP level training awards a certificate in Foundation Studies in Polarity Therapy.
Our APP level goes far beyond a personal introduction to Polarity Therapy and what many schools teach at this level. Wellness Institute is dedicated to teaching most of the important Polarity Therapy principles and energy relationships in foundation studies. Obviously, we expand and deepen this in more advanced studies, yet we believe in giving you solid exposure to the entire spectrum of Polarity Therapy from the very beginning. More about Foundation Studies in Polarity Therapy >
Wellness Institute provides a comprehensive encounter with Polarity Therapy principles and practices in Foundation Studies in Polarity Therapy. (Most schools reserve this for their RPP levels.) We want you to have a comprehensive foundation; then subsequent studies build upon that, expanding what you already know and applying it to myriad situations in health care.
Foundation Studies in Polarity Therapy are taught a unique way at Wellness Institute. At this time, we offer the foundation level of study (APP) only via a hybrid training combining distance learning and in-person skills refinement. We are one of the leaders in distance learning, with over twenty years experience. This hybrid type of training program that combines distance learning and in-person skill refinement has proven so effective that we have made it our only study option at this level. Our distance learning program has over 40 hours of video instruction, required practices, and structured clinical supervision. This is a 160 hour APP level training that exceeds the APTA Standards for Practice.
Wellness Institute curriculum for Foundation Studies in Polarity Therapy (APP level studies) includes the following topics>

Complete Theory on the Human Energy System
Universal Energy Dynamics and the Human Body
Five Elements
Energy Fields in Living Organisms
Chakra System, theory and practice
Five and Six Pointed Stars
Craniosacral Therapy general principles
Nervous System Balancing
Body Physiology and Energy Principles: Respiration, Metabolism, and Detoxification
Natural Cleansing Protocols
Insights from Naturopathic Medicine, Chiropractic, and especially Osteopathic Medicine, through Dr. Stone's 60 years of experience
New refinements based on energy medicine science
Professional Ethics and Practice Management
The RPP level training awards a diploma in Advanced Studies in Polarity Therapy.
The RPP level is taught as a modular training at Wellness Institute. Each learning module advances a specific area of Polarity Therapy study and how to apply energy medicine principles in relation to current needs and trends in health care. Because our director, Roger Gilchrist, began his career in mainstream healthcare, it has always been part of the Wellness Institute mission to create a credible bridge with the allied health professions.
RPP level training at Wellness Institute is a 700 hour professional training that includes the 160 hours of Foundation Studies. The 700 hours exceed the APTA requirement of 675 hours of study at this level. All of the professional competencies defined in the Standards for Practice are taught in the APP+RPP levels of study. This allows us to build on these skills in the mentoring/community service model that meets the additional hours required for BCPP qualification.
Wellness Institute curriculum for Advanced Studies in Polarity Therapy is structured around 7 core content modules plus additional studies in requisite areas:
Deepening Polarity Therapy
Craniosacral Therapy and the Energetic Body
Counseling Skills for Bodyworkers
Process Oriented Bodywork
Energy Tracing
Nervous System Resiliency
NeuroEnergetic Therapy™
The addition of supportive studies in Anatomy and Physiology, Business Management and Ethics, and required Supervision of Internship Practices creates a complete professional training. The student earns a diploma in Advanced Studies in Polarity Therapy.
Graduates at the RPP level may become candidates for Board Certified Polarity Practitioner. The additional required hours are completed in professional service projects designed with your supervisor. The necessary content studies to sit for the Board Certification Exam are completed during Advanced Studies in Polarity Therapy.
Board Certified Polarity Practitioner studies at Wellness Institute accomplish the additional training hours required for BCPP through public service. We believe in the principle of give-back to our communities. This service leads to increasing professional maturity and begins to establish you as a leader in the field. More>
The additional hours for BCPP following RPP level studies can be accomplished several ways: mentoring newer students in their understanding of Polarity Therapy; community presentations, writing, blogging, and video presentations on Polarity Therapy; research; advanced clinical applications by direct mentorship of a senior practitioner; and even more ways! The school will help you structure a unique plan for giving back and community contribution.
The Wellness Institute emphasis on community service is completely unique in Polarity Therapy training programs. We believe it supports you to develop in an individual way best suited to your talents. Interestingly, at the same time this does something for wider awareness of Polarity Therapy and, in that way, makes a contribution to the larger field.
BCPP qualifying hours can also be acquired through additional studies, for example, studying in the Craniosacral Biodynamics training as well. Some students pursue dual certification in Polarity Therapy and BCST. The two approaches to healing and therapeutic skillsets complement each other tremendously!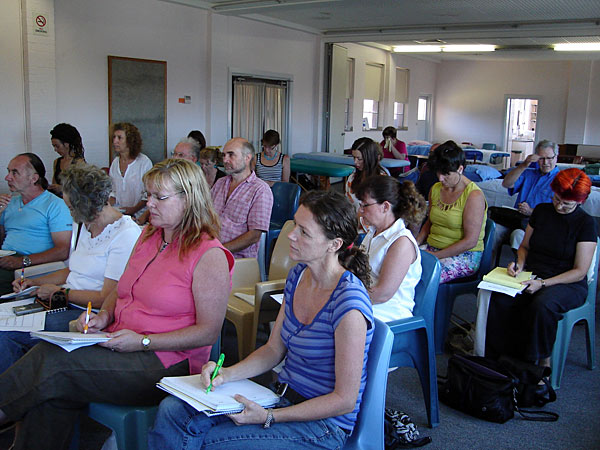 For more information on the professional practice of Polarity Therapy, visit the website for
the American Polarity Therapy Association (APTA) at www.PolarityTherapy.org.